Are Silestone Countertops the Best Quartz Countertop
If you wondering if Silestone countertops the best quartz countertop then look no further then this article.  No one will be able to argue that the kitchen is the heart of most homes for the US citizens. A newly remodeled and attractive kitchen will transform a home, and give it a more inviting and warmer feel. It has also been an outstanding investment if you want to increase the resale value of your home. Families are much more willing to cook healthy family meals, entertaining friends if they enjoy to spend time to gather in the kitchen. For many years, marble and granite have been the trendiest materials that property owners for the countertops in their bathrooms and kitchens Regardless of their aesthetic appeal and popularity, these natural stone products have quite many disadvantages. Silestone Countertops are becoming a more practical and famous alternative to marble, granite, and other natural surface, which offers a wide range of texture, color, and edging selections, it is very beautiful as compared to its competitors.
Some more reason to consider if Silestone Countertops are the best countertop:
Silestone is the kind of natural quartz that is as beautiful as the marble, granite, and other natural stone surfaces that are used for various purposes in commercial and residential remodeling and construction projects.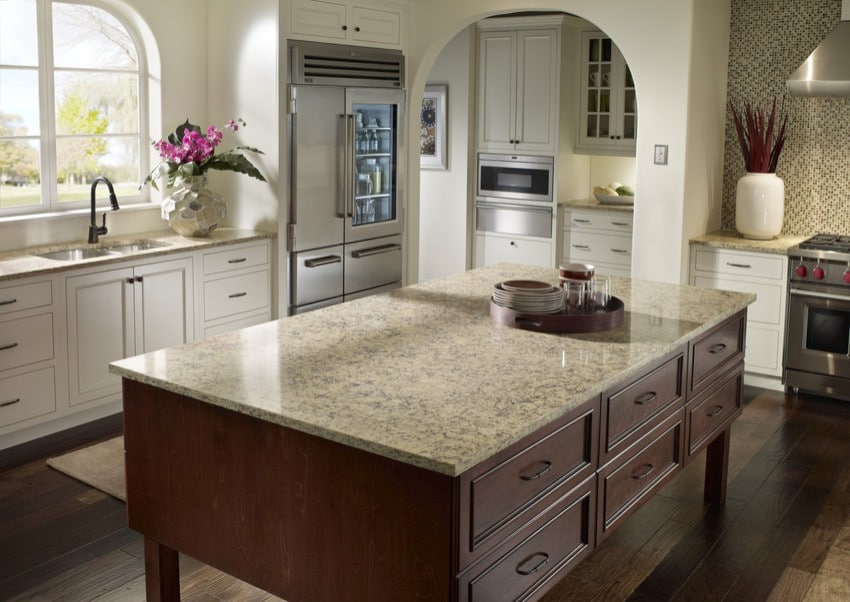 During the manufacturing process, there will be added polyresin material to the quartz. The mixture of these substances goes through a unique vibro-compression system during across the protection process. The result is the Silestone countertops product with the classic look of quartz, along with many benefits that cannot be found in another comparable natural stone countertop product.
Resistant to potential impact-related damage
During the early phase of manufacturing, the quartz is merged with a polyresin substance, so as to give it an elastic quality that strengthens the quartz while going toward to the vibro-compression system all throughout the manufacturing process. It will reinforce the Silestone countertops so that it would not break or crack when someone has dropped something on it accidentally, or when a hot pan or pot has been placed on the surface without a trivet.
Stain and acid resistant
Silestone is none porous, which contain an essential amount of quartz and is among the hardest minerals in the world. Its strength and the fact that it is not porous,, which may enable stain-causing liquids to soak into the material, giving it the stain resistant that lacks in minimally processed natural stone products. It is also resisting the stains from acidic liquids, such as vinegar, coffee, wine, and products that contain citrus or the citrus fruit itself.
Scratch resistant
In order to illustrate the extent to which Silestone countertops resist scratches, the company has compared the hardness rate of Mohs on a diamond against Silestone's hardness rating. A diamond has received 10 for the hardness score, while Silestone received 7. In accordance to the rating system, this countertop is less prone to scratches as compared to the other countertop surface materials.
Silestone countertops does not have to be coated with sealer, you do not need to do periodic reapplications of the sealer. Because the non-porous surface is not absorbing liquids or food contaminants, there is no need to worry about cross contamination between foods. It is not requiring any special treatment, either for general cleaning or maintenance.
If you want to read more about other countertop materials to use then visit our kitchen countertop page for more info. Or visit our main page to get an overview of all New View Marble & Granite has to offer.