Considering the installation of granite countertops in your kitchen area? They bring beauty to your home now and also value to it all through the years. Granite is an excellent choice for numerous reasons. With the appropriate selection and maintenance, granite will continuously welcome you home for a lot of years.
About Granite
Granite is a naturally occurring stone. Primarily igneous rock, it can be formed by the crystallization of molten rock & goes through a large amount of high temperature as well as pressure over a period of time. A number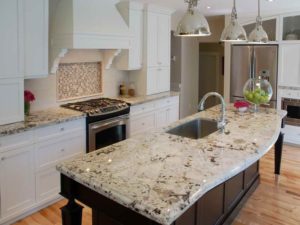 of different types can be purchased commercially including other volcanic origin stone distributed as "granite":
True granite
Pegmatite
Syenites
Diorite
Larvikytes (labradorite)
Preferred above a number of other stone countertops, granite is highly valued for its level of resistance to acids and also its hardness. It's a porous natural stone and can be tainted or even destroyed if not sealed before using.
Alternatively, ceramic tiles are simpler to use since they are smaller and also lighter. They are available precut & perfectly square. You may choose from a number of different shapes and dimensions.
The major difference between slab and tile are the seams. Tiles certainly possess a lot of seams or grout traces. Slabs typically possess seams unless of course you get a slab big enough for your whole counter. However slabs have much less seams compared to tiles.
Granite Countertop Care
Granite countertops in your kitchen area can last a very long time and also look fantastic with the appropriate maintenance. They sustain their polished surface and appear brand new even a decade later.
Sealing
After your granite countertop is set up, you will have to protect it with a sealer. Sealing it does not make it impervious, however it can assist it repel stains and also withstand cloudiness or even scratches.
Make sure that the counter is dried a minimum of 6 hours after that use a liquid or spray sealer, allow to sit for thirty minutes and rub off the excess with a soft, clean towel. Apply another coat 24 hours later on should you wish to. Reseal your countertops in about every 2 years.
Daily Care
Granite is porous therefore it's recommended that you maintain counters as dry as it can be. Use coasters under drinks especially beverages with alcohol or citrus juice and clean up leaks immediately. You should not place very hot items direct on the countertop.
Thoroughly clean countertops with a non-abrasive, fairly neutral cleaner. You can purchase stone soap or merely make use of a gentle dishwashing cleaning agent. Rinse it and dry properly to prevent streaks. Keep acid and aggressive substances far from your granite.
Polishing
A few occasions every year you will want to polish your granite countertops so that they stay smooth and reflective. Make use of a granite polishing mixture and apply with a dirt free, soft cloth.
Pros:
Every slab is unique and different, hard, durable, scratch resistant, impervious to stains, high temperature, and fluids when sealed, relatively simple to clean, is available in all colors, still very covetable with an even greater re-sale value.
Cons:
Costly, weighty, requires yearly resealing, ubiquitous, "granite weakness."
Tips to help you get kitchen granite countertops at great prices
1) Measure your current countertop/counter. This will make it easy for you to get pricing!
To make it easy, determine the length of the front part of your counters. Obtain overall length in inches. Times length by 25 (depth of normal countertops), and divide up by 144. This would give you square footage.
For those who have inside corners, add 4.34 square ft for every inside corner (25*25″).
EX: For those who have 250″ of counter length, and also 1 inside area, do the following: 250*25 = 6250 + 625 (inside corner) = 6875 / 144 = 47.75 square ft!
2) Locate a fabricator which is situated in "less costly parts of town".
Do not limit yourself to your area only. Do a twenty-five mile radius search on Google Maps. If possible find a countertops contractor/fabricator that lists prices.
Shop at storing fabricators, not importer/distributors.
3) Check out a number of fabricators, and obtain quotations for colors you want.
Try preparatory negotiations on prices by asking: "What type of discount are you able to offer?"
Additionally inquire about CASH value, and also find out if it is possible to avoid having to pay sales tax while paying cash.
4) After you have several negotiated quotations, decide on the most affordable fabricator.
Request to send you to their dealer, to purchase a slab. Once you visit the dealer, contact the fabricator and request quotes for the colors you love.
When you choose a particular stone/slab and wish to move forward – put a "TAG" on that slab(s) (book it for one week). Return to the fabricator and bargain a final deal.
5) Get rid of unwanted elements.
4″ rear end bar will cost you money! In case you don't need it – get rid of it completely!
Should you be obtaining a regular drop in sink unit – ALWAYS opt for UNDERMOUNT sink unit. If possible deep dual bowl. Never set up top mount sink unit, or else you will nearly always have unpleasant mold growing under the sink unit lip.
6) Getting the entire kitchen done at once saves loads of cash.
7) Make inquiries regarding the best way to get a much better price, your fabricators might have plenty of this or that color for instance.
8) Try to find online deals, sales as well as special deals.