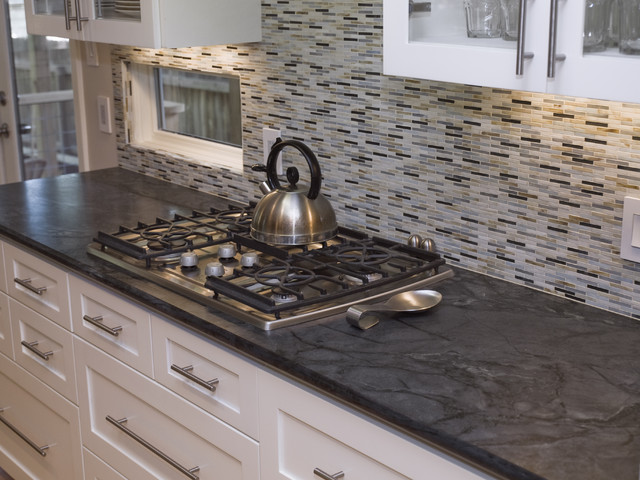 Soapstone Countertops for Your Kitchen
Custom Soapstone Countertops near Boston!
What are Soapstone Countertops?
Soapstone countertops has been used for hundreds of years. In fact most people don't realize that its been a building material all around the world for thousands of years. One of the main reasons for using soapstone has always been it's beautiful natural rustic appearance that is hard to find in any other material. So what exactly is soapstone? Well simply explained it is a natural stone that comes from quarries. It is mined from the earth like marble and granite. So it is completely natural and free from any chemicals or any man-made processes.
Why would you want to consider soapstone as a countertop?
The main reason would be the distinctive look of soapstone. It adds a rustic earthy look with a soft smooth texture similar to marble. Generally, soapstone countertops vary in the amount of veining as well as color depending on the where it was mined from in the world.
Word of advice on choosing soapstone is similar to marble it is a softer stone then granite. However, it varies in the level of softness also known as the density of the stone. The softer the stone the more "scratches" are possible on the finish. Some people love the softer stone as the "scratches" make the stone look "worn" and adds a unique look. If you are not looking to achieve that look then we would advise you look for a harder version of soapstone.
You can also get  your countertop in soapstone that varies in color. Not all soapstone is dark gray or light grey. Some look slightly green, some black, and the list goes on. It is also possible to change the color of a lighter soapstone to a darker color by sealing it with an oil. It is a permanent seal so make sure to see a sample before ordering the whole thing oil sealed.
What are the Pros and Cons of Soapstone Countertops?
Pros of soapstone:
The look  – Very distinctive aged look. Soft, rustic, and looks to last a thousand years. Also it will last that long.
Low Maintenance – No need to seal the countertop but it can be sealed with a oil or wax
Durable  – It's stone so it is durable but like any stone don't hit it with a hammer. It has it's limits
Scratches can look good – For the softer versions "Micro" scratches are going to happen but the good thing is it looks good that way. The countertop looks used and aged
Healthy Choice  – No chemicals or man-made products
Last Forever  – Besides it will be around longer then your house the style also lasts. It has for thousands of years and for more
Heat Resistant – You can put hot pans on it with no problems
Cons of soapstone:
Most are soft – If you don't like the possibilities of scratches then ask for a non-soft color
Limited Selection – While there are a few options for colors they are not that many.
Needs quality craftsmanship – Don't think you can save a few bucks and hire the guy who works out of his garage. Needs to be crafted and installed by "Craftsman".
Seal or not to seal – Soapstone is porous, which mean water can soak in as well as other liquids. The more dense colors not as much but if you get a soft stone you need to decide if you want it sealed. If so wax seal wont change the color but oil seal will make it darker
Consistency – It is natural stone but it like marble and veining and colors can vary greatly. So if you have a big kitchen you need to make sure there is enough of that material because you can not mix and match
See our FAQ page or Blog for more info on Soapstone.
Quartz Countertops & Marble and Granite Countertops Ma – Services
Kitchen Countertops in Granite, Marble, Quartz or other natural stone. We offer high quality counter tops with Lifetime Warranty at factory direct prices.
Our tops sellers are Granite Countertops cut and installed. We direct import our granite slabs carry over 90 colors in stock. Huge Discounts!
Certified and experts fabricators and installers of Quartz Countertops. If your looking for Quartz look no further. We carry all the major brands.
Marble countertops are great for kitchen or vanity tops. We carry, cut, and install some of the best marble available. 
Caesarstone is one of the most popular quartz countertops. Read more about Caesarstone by clicking on the picture. 
There are many different types of solid surface countertops. We carry all the most popular and top quality products. 
Soapstone countertops are an excellent choice for the right kitchen or bath. We are experts in soapstone. 
Looking for other stone countertop options? We carry almost or have access to all different types. Talk to one of our specialist for more details.
Quartz vanity tops are an excellent choice for your bathroom. We carry hundreds of remnants which can save you money. 
Bathroom vanity any size and color. We have a huge selection of remnants in Marble, Granite, and quartz that saves you money. Quality at any size.
Marble and Granite Backsplash in tile or full stone. Quartz backsplash also available. Lots of backsplash options to add style and class to your kitchen.
Full Marble and Granite shower surrounds custom to your shower or jacuzzi. Available in Marble and Granite Slabs and all natural stone tiles.
Quality Countertops in Franklin, MA at Factory Direct Prices
No Cost Design Consultations & Estimates
Have our countertop experts help you with selecting materials, styles, and design for your countertop project. No hassle & No purchase obligation. With Art Stone Granite and Marble, you get:
High-Quality Craftsmanship
Factory Direct Pricing
Unmatched Customer Service
Master Installers
Near Invincible Seams
Talk to an Expert Now: (508)541-3909

Review by Regina Harrington:
They have an excellent selection of soapstone and granite. I looked several places for soapstone and New View had the best products and pricing. They were amazing to work with – I absolutely love the new countertops.

Review by Interior Designs by Bridget, LLC:
I've used New View's granite service for two bathrooms and a kitchen and love the results! They are well priced, and the crew is professional and does great work.