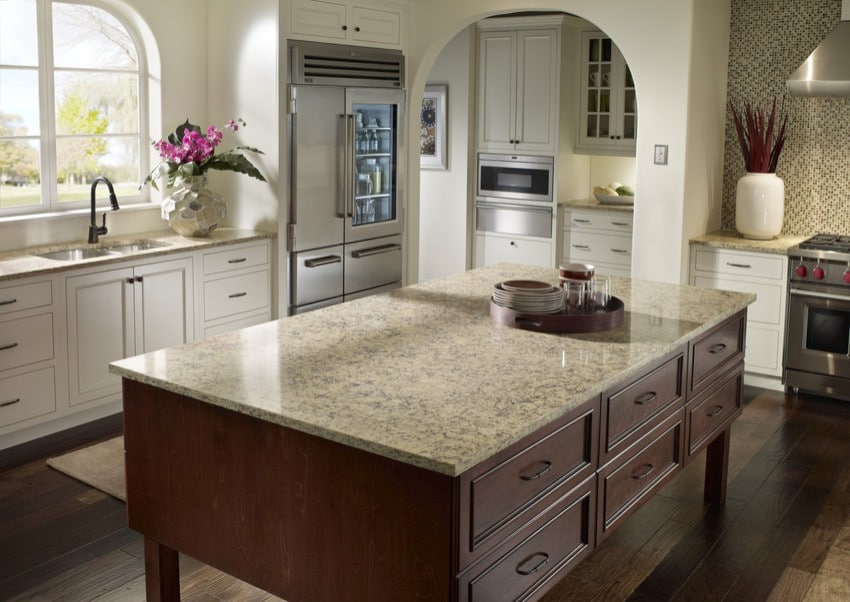 Silestone Countertops for Your Kitchen
Silestone Countertops at Affordable Prices!
If you're looking for quartz countertops you have probably heard of the Silestone countertops. One of the top brands of engineered stone available. They have been in the industry for years and have some of the most interesting and unique colors available.  We have provided Silestone countertops since we opened and our quality and affordable prices have given us the reputation as the go-to source for Silestone.
What are Silestone Countertops?
Silestone Countertops are a brand of quartz countertop (AKA engineered stone or man-made stone). They are made of high amounts of quartz with gives them their higher flexible strength compared to other natural stones. They are also waterproof and stain-resistant due to the manufacturing process that makes them nonabsorbent. That means no need for sealing like natural stone. See our quartz countertops page for more details.
What are the Pros and Cons of Silestone Countertops?
Pros: (As a Brand)
Long History – Silestone is a well-established brand and have been continuously working on improving their product over the years.
25 Year Warranty – The only brand that offers a certified transferable warranty.  See their warranty here.
Large Color Selection – Not only do they have a great color selection but they also have some of the most unique colors. As well as the most natural looking.
Unique Features – One of a kind thing like "Advanced Bacteriostatic Technology" which translates into "cleaner surfaces" for you and your family.
Cons: (As a Brand)
Cost – You get what you pay for and as one of the best, they are not one of the cheapest.
Are Silestone Countertops good Kitchen Countertops?
Of course, Silestone Countertops make great kitchen countertops. Silestone is one of the world's leading producers of quartz surfaces and they stand behind their quality. They also have some unique features that give them a great advantage as a brand of choice.
Quartz Countertops & Marble and Granite Countertops Ma – Services
Kitchen Countertops in Granite, Marble, Quartz or other natural stone. We offer high quality counter tops with Lifetime Warranty at factory direct prices.
Our tops sellers are Granite Countertops cut and installed. We direct import our granite slabs carry over 90 colors in stock. Huge Discounts!
Certified and experts fabricators and installers of Quartz Countertops. If your looking for Quartz look no further. We carry all the major brands.
Marble countertops are great for kitchen or vanity tops. We carry, cut, and install some of the best marble available. 
Caesarstone is one of the most popular quartz countertops. Read more about Caesarstone by clicking on the picture. 
There are many different types of solid surface countertops. We carry all the most popular and top quality products. 
Soapstone countertops are an excellent choice for the right kitchen or bath. We are experts in soapstone. 
Looking for other stone countertop options? We carry almost or have access to all different types. Talk to one of our specialist for more details.
Quartz vanity tops are an excellent choice for your bathroom. We carry hundreds of remnants which can save you money. 
Bathroom vanity any size and color. We have a huge selection of remnants in Marble, Granite, and quartz that saves you money. Quality at any size.
Marble and Granite Backsplash in tile or full stone. Quartz backsplash also available. Lots of backsplash options to add style and class to your kitchen.
Full Marble and Granite shower surrounds custom to your shower or jacuzzi. Available in Marble and Granite Slabs and all natural stone tiles.
Quality Countertops in Franklin, MA at Factory Direct Prices
No Cost Design Consultations & Estimates
Have our countertop experts help you with selecting materials, styles, and design for your countertop project. No hassle & No purchase obligation. With Art Stone Granite and Marble, you get:
High-Quality Craftsmanship
Factory Direct Pricing
Unmatched Customer Service
Master Installers
Near Invincible Seams
Talk to an Expert Now: (508)541-3909

Review by Regina Harrington:
They have an excellent selection of soapstone and granite. I looked several places for soapstone and New View had the best products and pricing. They were amazing to work with – I absolutely love the new countertops.

Review by Interior Designs by Bridget, LLC:
I've used New View's granite service for two bathrooms and a kitchen and love the results! They are well priced, and the crew is professional and does great work.