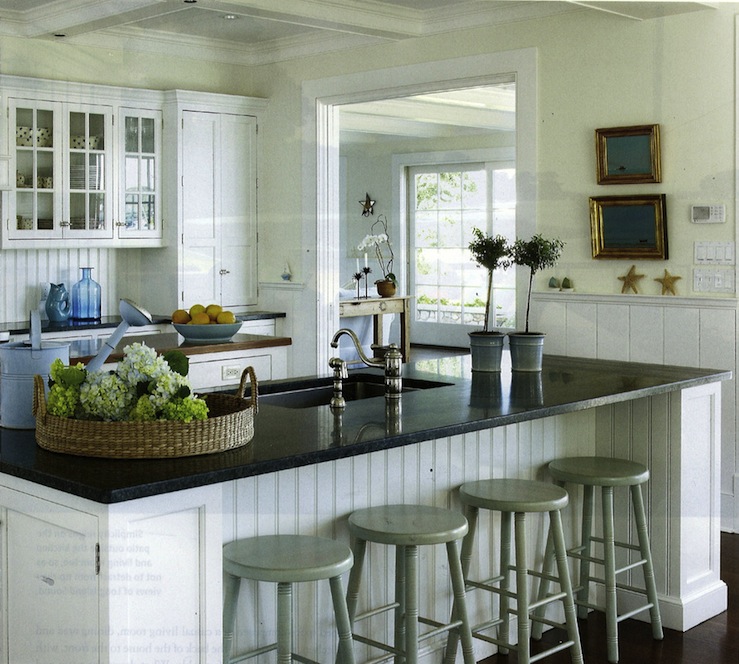 Kitchen Countertops in Marble, Granite, Quartz, and More!
New View Marble and Granite specializes in Kitchen Countertops in Granite, Marble, Quartz, and Soapstone. We provide our clients with the Highest Quality Countertops at affordable prices. Backed with a Lifetime Warranty our kitchen countertops are sure not only to looks great but be done with at the highest quality standards and made to last.
There are several types of kitchen countertops available on the market. We like to group them into 2 categories: "Stone Countertops" which is everything we offer and "Non-stone countertops" which are cheaper quality man-made materials normally mainly made up of wood, plastic, and chemicals.
Types of Kitchen Countertops we Provide:
Differences in Kitchen Countertops:
Granite Kitchen Countertops
In our opinion granite is by far one of the best material you can have for a kitchen countertop. That is due to its durability, uniqueness, cleanliness, and overall functionality. Functionality like being able to cut, spill, and place hot pans anywhere on your kitchen countertop which makes cooking easier.  There are many positives to having a granite kitchen countertop probably the most out of any material however there are also a few things like sealing, avoiding chipping corners, and the lack of artificial colors that some may look to other materials.   See our Granite Countertops page for a more detailed list of pros and cons or speak for one of our experts.
Marble Kitchen Countertops
Marble is beautiful, unique, looks like a work of art, and makes an incredible kitchen countertop if used in the right way and with caution. The first thing anyone needs to know when thinking of using marble for a kitchen countertop is "maintance and care". Unlike granite, or quartz, marble is not as dense and is more porous. Basically means that you need to seal it more often, avoid spills, and be aware that its not scratch proof. Its best not to use around a cooking area and while some people like the look of a "aged /slightly scratched surface" it might be a factor that convenes most people to use a different material. But if you really like the look of marble it's hard if not almost impossible to replicate. Hence why designers love to use it in the right places like islands tops. Read our Marble Countertops page for more info.
Quartz Kitchen Countertops
Quartz can be confusing to most people shopping for a kitchen countertop so lets clear it up. When referring to the kitchen countertop material "Quartz" we are talking about a "Man-Made / Processed" material also know as "Engineered Stone" or popular brand names like Caesarstone or Silestone. It is made from natural stone "Quartz" which is ground up and "Glued" back together. The quartz gives the countertop its strength and the glue (called resign) holds it together making it water/stain resistant and durable. The biggest downsides are the lack of "natural look" and not being as heat resistant as granite. But the biggest positives are it's "lack of brittleness" and the artificial colors that you just can't get in natural stone. Our Quartz Countertops page has more details if you would like to read more.
Soapstone Kitchen Countertops
Similar to marble generally people want soapstone because of it's "Look". It's unique, old style, aged, and stands out as being what "real" stone should look like. While strikingly beautiful it also has it's disclaimer that you need to know before using it as a kitchen countertop. First and foremost being that most soapstone is soft like marble meaning a bit more maintenance and care. There are some varieties that are more dense than others but most have the potential of a "aged look" aka scratches over time. Sealing is also done a little different and a little more involved. However, like marble if you get good advice on how to use and care for it then it's beauty is worth the extra care. See our Soapstone Countertops page for more details.
Click on any of the links above to get more details on a specific type of material
Quartz Countertops & Marble and Granite Countertops Ma – Services
Kitchen Countertops in Granite, Marble, Quartz or other natural stone. We offer high quality counter tops with Lifetime Warranty at factory direct prices.
Our tops sellers are Granite Countertops cut and installed. We direct import our granite slabs carry over 90 colors in stock. Huge Discounts!
Certified and experts fabricators and installers of Quartz Countertops. If your looking for Quartz look no further. We carry all the major brands.
Marble countertops are great for kitchen or vanity tops. We carry, cut, and install some of the best marble available. 
Caesarstone is one of the most popular quartz countertops. Read more about Caesarstone by clicking on the picture. 
There are many different types of solid surface countertops. We carry all the most popular and top quality products. 
Soapstone countertops are an excellent choice for the right kitchen or bath. We are experts in soapstone. 
Looking for other stone countertop options? We carry almost or have access to all different types. Talk to one of our specialist for more details.
Quartz vanity tops are an excellent choice for your bathroom. We carry hundreds of remnants which can save you money. 
Bathroom vanity any size and color. We have a huge selection of remnants in Marble, Granite, and quartz that saves you money. Quality at any size.
Marble and Granite Backsplash in tile or full stone. Quartz backsplash also available. Lots of backsplash options to add style and class to your kitchen.
Full Marble and Granite shower surrounds custom to your shower or jacuzzi. Available in Marble and Granite Slabs and all natural stone tiles.
Quality Countertops in Franklin, MA at Factory Direct Prices
No Cost Design Consultations & Estimates
Have our countertop experts help you with selecting materials, styles, and design for your countertop project. No hassle & No purchase obligation. With Art Stone Granite and Marble, you get:
High-Quality Craftsmanship
Factory Direct Pricing
Unmatched Customer Service
Master Installers
Near Invincible Seams
Talk to an Expert Now: (508)541-3909

Review by Regina Harrington:
They have an excellent selection of soapstone and granite. I looked several places for soapstone and New View had the best products and pricing. They were amazing to work with – I absolutely love the new countertops.

Review by Interior Designs by Bridget, LLC:
I've used New View's granite service for two bathrooms and a kitchen and love the results! They are well priced, and the crew is professional and does great work.