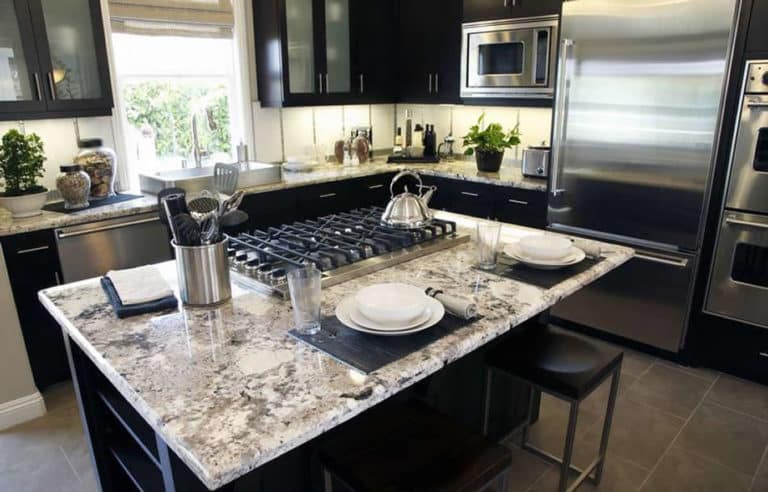 TRUSTED COUNTERTOP FABRICATOR
Granite countertops purchases involve selecting the right fabricator, which is the most important decision of the whole process. According to the stone and industry survey, homeowners spend a major part of the granite
countertops purchase process in selecting their granite slabs. Yes, without a question selecting the right granite is very important. New View Marble and Granite provides you with a reliable service with quality. We have the best granite countertops Wrentham MA.
Choosing the right granite fabricator to install your countertops is even more important because, the right fabricator can help you choose the best granite, and explain the pros and cons of using different kinds of stones that are most suitable for your project, that's what we do; we explain everything for our clients.
Like a tailor that stitches a custom-made suit can make you look better by stitching a suit to your particular body style and contours after taking careful measurements, a custom stone fabricator can make your kitchen look pleasing by measuring and fabricating with high-quality standards. Conversely, an inexperienced fabricator can ruin the looks of the best-looking granite slabs you selected. By no means is this an exaggeration! I suppose you don't want this, right? So, make sure you choose the right countertop fabricator; we provide you with the best granite countertops Wrentham MA. Our company is 100% reliable.
CHOOSING A FABRICATOR
In today's modern kitchens and baths, there are exotic natural and man-made materials, beautiful designs and incredible possibilities. Realizing them rests on an essential first step: finding the right fabricator. Here's how:
Start in your own backyard
Choosing a local fabricator, one who works in your area, is a good option. Because they work and live in the community, chances are your local contractor must be good and dependable in order to stay in business. Ask how long they have been in business. Do they provide a warranty? Check for proper local and state licenses and insurance.
Insist on options
Countertops can be made of a dizzying array of materials. Some are more suited to providing a hard-working surface, others are ideal as a luxurious design component. No single fabricator offers them all. But some fabricators offer only one, which may not match your needs. So look for fabricators who provide you with a choice by carrying the top brands of the most popular materials: Quartz, Granite, Marble and Solid Surface.  A specialized countertop fabricator is well versed in many materials and can help you select which would best match your usage, traffic patterns, style and budget.
Get references
Ask your fabricator for references and call those clients. Was the fabricator easy to deal with? How did they communicate and handle any issues? Did they do a good job? Was the job finished on time? Ask to see the fabricator's finished projects so you can see the quality of the workmanship.
See the fabricator's work in person
I know this is a lot of work on the homeowner's end, but you are spending a lot of money on your new countertops. You have got to be sure you are getting good, quality workmanship for your money. I recommend a visit to some of their job sites or their showrooms. Make sure their quality of work meets your standards, and quality is our speciality, wonderful granite countertops Wrentham MA is with us.
Get a contract
The fabricator should offer you with a detailed, written contract. It should state the materials, colors and styles to be used.
New View Marble and Granite takes great pride in the work that we perform. We have a great staff and the best state of the art equipment to work with. New View Marble and Granite keeps up with fabrication trends. We invite and encourage you to come into our facility and we would be happy to show you how we turn slabs of natural stone into beautiful works of art, like countertops and much more. Are you looking for wonderful granite countertops Wrentham MA? Come to visit us, we make your environment much more beautiful.
Every company has a different fabrication process. At New View Marble and Granite, we take the time to do things the right way. The difference between a good job and a great one is in the details. We are proud of the work we produce. Choosing the right fabricator is just as important as choosing the right countertop. New View Marble and Granite provides you amazing granite countertops Wrentham MA.
Quartz Countertops & Marble and Granite Countertops Ma – Services
Kitchen Countertops in Granite, Marble, Quartz or other natural stone. We offer high quality counter tops with Lifetime Warranty at factory direct prices.
Our tops sellers are Granite Countertops cut and installed. We direct import our granite slabs carry over 90 colors in stock. Huge Discounts!
Certified and experts fabricators and installers of Quartz Countertops. If your looking for Quartz look no further. We carry all the major brands.
Marble countertops are great for kitchen or vanity tops. We carry, cut, and install some of the best marble available. 
Caesarstone is one of the most popular quartz countertops. Read more about Caesarstone by clicking on the picture. 
There are many different types of solid surface countertops. We carry all the most popular and top quality products. 
Soapstone countertops are an excellent choice for the right kitchen or bath. We are experts in soapstone. 
Looking for other stone countertop options? We carry almost or have access to all different types. Talk to one of our specialist for more details.
Quartz vanity tops are an excellent choice for your bathroom. We carry hundreds of remnants which can save you money. 
Bathroom vanity any size and color. We have a huge selection of remnants in Marble, Granite, and quartz that saves you money. Quality at any size.
Marble and Granite Backsplash in tile or full stone. Quartz backsplash also available. Lots of backsplash options to add style and class to your kitchen.
Full Marble and Granite shower surrounds custom to your shower or jacuzzi. Available in Marble and Granite Slabs and all natural stone tiles.
Quality Countertops in Franklin, MA at Factory Direct Prices
No Cost Design Consultations & Estimates
Have our countertop experts help you with selecting materials, styles, and design for your countertop project. No hassle & No purchase obligation. With Art Stone Granite and Marble, you get:
High-Quality Craftsmanship
Factory Direct Pricing
Unmatched Customer Service
Master Installers
Near Invincible Seams
Talk to an Expert Now: (508)541-3909

Review by Regina Harrington:
They have an excellent selection of soapstone and granite. I looked several places for soapstone and New View had the best products and pricing. They were amazing to work with – I absolutely love the new countertops.

Review by Interior Designs by Bridget, LLC:
I've used New View's granite service for two bathrooms and a kitchen and love the results! They are well priced, and the crew is professional and does great work.